FledglingStudio.com

Out-of-print and Hard-to-find books and information for Glass Artists and Collectors
Sometimes we find an out-of-print glass text that we think should still be around for those of us who might find it useful. We're currently working on more reprint projects, including several e-prints™ , digital PDF format eBooks that can be instantly downloaded and read right on your computer.
Here's our first Fledgling Studio e-print™
The Starving Artist's guide to
Glass Blowing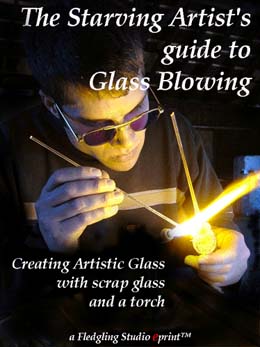 The Starving Artist's guide to Glass Blowing
Creating Artistic Glass with scrap glass and a torch
This classic glass-working text was originally self-published in 1963 by Joseph G. Payer, Jr. as "Creating Artistic Glass with Scrap Glass"
In writing this book, Mr. Payer took his experience as a scientific glassblower (or lampworker), and translated it into an easy-to-follow guide for the 'average' person with 'below-average' funds.
Mr. Payer explains how to use scrap glass commonly found in every home - bottles & jars, marbles, light bulbs & flourescent tubes - to create artistic blown glass items - vases, ornaments, and glass sculptures.
The Starving Artist's Guide includes a brief history of glass, descriptions of the tools and equipment you'll need, basic glass working techniques, and how to prepare your materials for use - as well as several artistic glass projects you can create in your own home.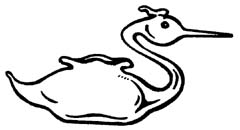 Mr. Payer guides you, step-by-step, as you learn the basic lampworking skills of the Scientific glassblower - using a propane torch and glass rods & tubes.
---
Long out of print, we've updated the original text with New Information and an expanded list of Resources, and now offer the book as a convenient downloadable PDF format eBook that you can read right on your own computer.
44 pages. 65 illustrations.
In order to view this PDF format manual, you'll need to have Adobe® Reader installed on your computer.
For more information or to buy online
click here
price: $7
FREE shipping worldwide!
As more digital eBooks become available you'll find them here,
along with our conventionally printed booklets.

---
Our two printed/bound reprint booklets are still available:
GLASS BLOWING

PAINTING AND FIRING
STAINED GLASS

GLASS BLOWING
by Carleton J. Lynde, Ph.D.

This fun little book was originally published (circa 1920) by the A.C. Gilbert Co. of New Haven, CT for inclusion in one of their various scientific experiment sets. Originally titled EXPERIMENTAL GLASS BLOWING FOR BOYS, it presents a series of 80 "experiments" designed to teach the basic techniques of lamp work.

Paperbound, 62 pages, 5 by 7 inches, over 100 illustrations, 2-color cover.

This book is once again out of print, but copies do sometimes show up for sale on Amazon.com or eBay.

PAINTING AND FIRING STAINED GLASS
by E.W. Twining

This booklet contains excerpts from Twining's classic THE ART AND CRAFT OF STAINED GLASS, originally published in 1928 by Sir Isaac Pitman & Sons, Ltd., London. Our reprint edition includes the Painting and Firing chapters as well as a section on making and using silver stain. We've also included several advertisements from the original edition.

Paperbound, 60 pages, 5 1/2 by 7 3/4 inches, 23 illustrations, 1 full-color plate (cover).

Look for this copies of this book on Amazon.com or eBay.
Copyright ©2016 Fledgling Studio and John R. Cumbow
updated April 2016