Contemporary Lampworking: A Practical Guide to Shaping Glass in the Flame (2 Vol. Set)
- by Bandhu Scott Dunham
Arguably one of the best contemporary lampwork artists in the world, Dunham covers all aspects of working glass with a torch in this 2-volume set. When you're shopping, try to get the most recent edition you can, but know that even the earlier books will give you a wealth of useful information.



Glassblowing: An Introduction to Artistic and Scientific Flameworking
- by Edward Carberry
Carberry took his years of experience as a scientific glassblower and wrote one of the first of the modern lampwork how-to books. Available in many different editions and filled with sound, easy-to-follow instructions.


Glassblowing: An Introduction to Solid and Blown Glass Sculpturing
- by Homer Hoyt
Hoyt is another longtime lampworker. Well-written and illustrated, his books have been updated several times over the years. They're all good.



Advanced Flameworking
- by Milon Townsend
Townsend has been working with and teaching other how to work with glass for many years. In his own work he uses a variety of techniques, including lampwork, kiln casting and Italian glassblowing methods. This is one of several books he has writtten about glassworking. While you're at it, look for his glassworking videos as well.
Flameworking: Creating Glass Beads, Sculptures & Functional Objects
- by Elizabeth Mears
"You can easily form beads, candlesticks, and art objects from just a rod of cold glass and a torch. Heat it, manipulate it a bit, and almost instantaneously beautiful and new figures emerge from the fire. That's flameworking. A top teacher of the craft explains how to do it all, providing exactly the same information and exercises she gives her beginner's workshops."




Creative Glass Blowing by James E. Hammesfahr, Clair L. Stong
"Here is the first comprehensive and detailed introduction to the practice of glass blowing...
In clear, concise language the authors explain, step by step, how to perform the basic operations of glass blowing, from rounding a sharp edge and joining glass parts to blowing bulbs. Throughout the book, exercises provide practice in applying the basic operations in selected combinations to make complex structures.
More than 150 illustrations, comprising line drawings, photographs, and nine full-color plates, help the reader visualize the procedures and the finished products of glass blowing.
Useful as a text in formal courses in glass blowing, the book will also serve as an introduction for the layman to an engrossing and satisfying hobby and as a guide for the scientist or science student who needs to improvise or repair equipment."



Glass: Philosophy and Method: Hand-blown, Sculptured, Colored - by John Burton
I love this book! The first modern book on creative lampworking. Includes lots of funky little weird-looking glasswork. But the techniques (including making your own colors) are all here.




Glassblowing for Laboratory Technicians
Scientific Glassblowing
- by E.L. Wheeler
First published in 1958, this definitive volume is still used as a textbook in high school and college classes. Get a copy for your reference library.
Techniques of Glass Manipulation in Scientific Research
- by Julius D. Heldman, Ph.D.
"This book is designed for the technician, the chemist, the biologist, the physicist, and all others who at some time find it desirable to repair breaks in glass apparatus or to fabricate not-too-complicated pieces of glass equipment...
The fundamental operations are given extra emphasis, for two reasons:
A glossary of terms has been included, so that the proper technical terms used in the book may be at once referred to and understood...
The basic principles of metal-to-glass sealing are also heavily stressed..."

Glass Blowing - by Carleton Lynde - Originally published as "Experimental Glass Blowing for Boys" by the A.C. Gilbert company for inclusion in one of their scientific experimenting sets. The booklet includes 80 "experiments" that teach the basics of lampwork.
You can find our own reprint edition offered here.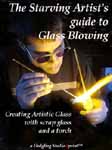 the Starving Artist's guide to Glass Blowing - This is our first e-print™ digital publication, a PDF format eBook that you can instantly download and read right on your computer.
Originally written and self-published in 1963 by Joseph Payer, this little book will teach you the basic techniques of lampwork, using tools and materials you probably already have around the house.
Find out more, and buy your own copy of 'the Starving Artist's guide' here.



Get the Starving Artist's Lampwork Project book - Check out our newest e-print™ digital publication, ready for download.
Get step-by-step illustrated instructions for 18 different Lampworked Glass Projects. Includes a review of lampworking techniques and a lampwork resource guide with books, magazines, sources of supply and more.
Check out the 'Lampwork Project Book' here.

The Complete Handbook of Lamp Glass Art
- by Nadine H Roberts
After a basic description of the lampwork process and how to set up your workspace, this book gives step-by-step instruction for dozens of lampworked glass items. It's geared more to the kind of stuff you see at the state fair and illustrated with simple line drawings, but you're still likely to learn something from it.


Flameworking: Glassmaking for the Craftsman



Early Glass of the Ancient World: 1600 B.C.-A. D. 50
In addition to wonderful photographs of ancient glass examples from the Corning Museum, this huge book includes a section detailing modern attempts to duplicate the original works, including coreforming techniques.

Early Ancient Glass: Core Formed, Rod-Formed, and Cast Vessels and Objects from the Late Bronze Age to the Early Roman Empire, 1600 Bc to Ad 50 - by David Frederick Grose
This attractive (if weighty) tome by a classics professor at the University of Massachusetts charts the widespread use of glass in the ancient world, from glass vessels found in Mesopotamia to glass sculptures, jewelry and household furnishings of early imperial Rome. The wonder is that all these objects were fashioned using a variety of techniques (see subtitle) invented before glassblowing. Including 130 color plates and nearly 1000 black-and-white photos and drawings.
---

Books about Beads and Beadmaking have been moved to their own page
---
Paul J. Stankard : Homage to Nature by Ulysses Grant Dietz, John Bigelow Taylor (Photographer)
"Beautiful and informative. Wonderful photographs of Paul's lampworked paperweights and detailed photographs of his techniques. Some artists would hoard their information, but this book reveals the fine subtleties of torchwork for all to see. All persons interested in the fine art of lampwork, especially artists and collectors, should have this book."



Neon Techniques: Handbook of Neon Sign and Cold-Cathode Lighting (#48)